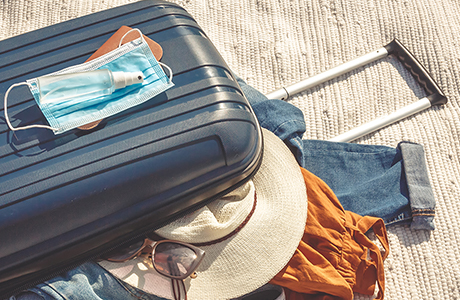 Holiday 2020 during the pandemic
A lot can happen between the day of booking and departure. However, at the beginning of the year, no one could have imagined that a global pandemic would make planning your holiday in 2020 so uncertain and complicated. It is understandable that many questions have arisen as a result, especially in the tourism industry. Is a summer holiday in 2020 even possible? What are the entry requirements? Where can you book your holiday in 2020 without any worries? In the following article, you will find the most important answers and information on entry and holiday conditions for five of the most popular travel destinations in 2020.
Note: The constantly changing dynamics of the coronavirus can also cause the entry regulations for your holiday 2020 to change from week to week on an ad-hoc basis. Therefore, you should check the website of your destination country and the Foreign Office shortly before your departure to find out about the latest regulations before you start your well-deserved summer holiday.
Content
Holiday 2020 in Portugal
Fantastic beaches, beautiful cities and remote surf spots: Portugal offers a varied range of sightseeing and nature activities. If you want to explore nature and hike during your Portugal holiday 2020, you should plan to travel in the spring or autumn months. At this time of the year, the climate is a little milder and perfect for long walks along the Algarve. Portugal's big cities are particularly busy during the summer months. So, for undisturbed sightseeing, we recommend postponing your Portugal holiday to the low season from September to March. Of course, you can still have a great time there during your 2020 summer holiday – despite the current pandemic.
Those who want to travel quickly and easily to soak up some Portuguese sun can fly to one of the two airports in Lisbon and Faro. Flights can be booked from various German cities, including the Easy Airport Parking Hamburg location and our Düsseldorf site. After a three-hour flight, you can start your well-deserved 2020 holiday in Portugal.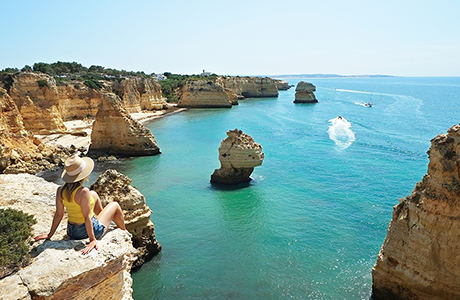 Travel and safety information for entering Portugal
Depending on the region, holidaymakers to Portugal can currently expect some restrictions during their 2020 summer holiday. Public life is resuming in most regions of the country, the travel warning has been lifted since mid-June and beaches are open to surfers and sun-seekers once again. There is currently no quarantine requirement, but it could be reintroduced at any time if the number of cases increases. At present, body temperature measurements are taken at airports and in the case of an elevated temperature, further examinations or self-isolation are required.
If you are planning to travel to Portugal, make sure you pack enough face masks. These are still mandatory in shops and on public transport. You must also stay a minimum distance of 2 metres apart in public spaces. The current measures and regulations may be stricter, depending on the region. It's best to find out exactly what restrictions apply to your destination region before you start your 2020 Portugal holiday. This is particularly true for the islands, as the entry requirements for a Portuguese island holiday in 2020 are currently much stricter than for the mainland.
(As of: 29.07.2020)
Holiday 2020 in Spain
Discover the diversity of Spain: rocky coasts, paradise coves, culinary specialities, architecturally impressive cities and a thriving nightlife. A holiday in Spain offers a diverse range of activities depending on the region. Those travelling to Spain during the summer months can look forward to average maximum temperatures of between 25 and 29 degrees. This makes the beaches particularly popular and always well-visited at this time of year. However, the best time for a sightseeing holiday 2020 in Spain is either spring or autumn. The cities are less crowded and the weather is a little milder – perfect for strolling through Spanish cities.
Camping enthusiasts can travel via France to the Spanish coasts in their motorhomes and caravans. Those who prefer to travel comfortably by plane to their Spain holiday destination can head for one of the many country's airports. You'll find flight connections from many German airports, including some of our Easy Airport Parking locations. Simply park your car, fly to Spain and enjoy your well-deserved holiday!
Note: Passionate Ballermann holidaymakers must put on a brave face during the summer of 2020. Due to non-compliance with COVID-19 measures, the Balearic Regional Government decided to close all the establishments situated on and around Ballermann's party mile until 15.09.2020. A party-focused Mallorca holiday 2020 and enjoying the nightlife in Ei Arenal is not possible for the time being.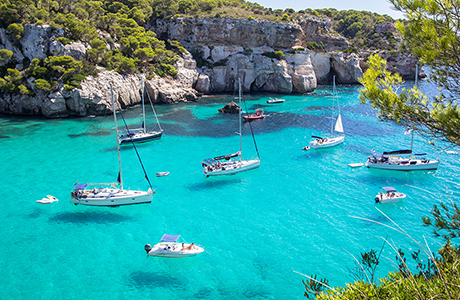 Travel and safety information for entering Spain
From 21.06.2020, entry into Spain from all EU states and Schengen countries will again be permitted – at least temporarily. However, before you can start your relaxing 2020 holiday, you can currently expect measures such as filling out a health check form. After filling in the form, a QR code will be generated, which you must show when entering Spain. Then your summer holiday 2020 in Spain can really begin.
However, during your holiday in Spain, you will face some limitations. You must wear face masks in all public places where a minimum distance of 1.5 metres cannot be maintained. Certain regions have even stricter mask regulations. This includes, for example, a general obligation to wear face masks.
Due to increasing numbers of infections, region-specific restrictions are being imposed in Spain from time to time. You can find out exactly where restrictions apply and in which regions it is currently not recommended to take a summer holiday in 2020 on the Foreign Office website. Currently, the epicentre in Spain lies in Catalonia around Barcelona and the Costa Brava, two regions that are extremely popular with tourists.
(As of: 29.07.2020)
Holiday 2020 in Croatia
Croatia has become one of the most popular tourist destinations for German travellers in recent years, mainly because of its lower prices compared to Spain and Italy. Previously a secret spot, it is now the most popular country on the beautiful Adriatic coast. Peak time for Croatia holidays is between May and September. Summery weather with bright sunshine lure in sun-seekers to enjoy everything on offer. From June onwards, water temperatures also rise to 25 degrees. Due to its popularity in summer, the tourist regions are sometimes quite crowded. It may be worth planning your summer holiday 2020 for September.
Many visitors to Croatia spend their time on campsites, travelling via Slovenia and Austria. For your holiday in 2020, you should, therefore, also pay attention to the toll and coronavirus regulations in place in the transit countries. If you want to enter Croatia by plane, there are several airports, however, not all of them offer direct flights from Germany. The three largest airports in Zagreb, Split and Dubrovnik can usually be reached easily via a 1.5 - 2.5 hour flight, allowing you to quickly reach your relaxing holiday in 2020!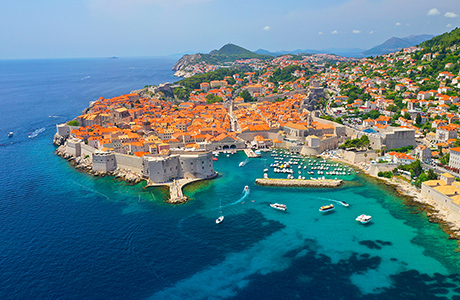 Travel and safety information for entering Croatia
Entry into Croatia is once again almost completely unrestricted following stringent restrictions in spring. When you start your holiday in Croatia in 2020, you must provide your contact details for the duration of your trip. You can easily do this online to avoid long waiting times.
In addition, in Croatia it is mandatory to wear a face mask in public. You must also keep a minimum distance of 1.5 metres. You should strictly adhere to this during your holiday in Croatia. If the virus continues to spread rapidly, it is also possible that the Croatian government will seal off islands at short notice. Visitors to Croatia planning their 2020 holiday should take this into account when planning excursions and choosing a hotel location.
(As of: 29.07.2020)
Holiday 2020 in Turkey
Turkey is a popular holiday destination for travellers from all over the world. For one thing, the picturesque beaches on the Black Sea and Mediterranean attract travellers to the country. Secondly, there are countless historical towns and diverse landscapes to discover. A holiday to Turkey offers plenty of different activities and experiences. Depending on the region, temperatures can climb to 35-40 degrees in the summer months. With water temperatures of up to 27 degrees Celsius, Turkey's Mediterranean region is a popular destination for beach lovers during the peak travel season from June to September.
Most travellers head for their holiday in Turkey by plane. For your holiday in 2020 there are flights of just 2.5 to 3 hours on offer. Istanbul, Antalya and Izmir are especially popular destinations. Depending on your destination and departure airport, you can easily park your car at one of our Easy Airport Parking locations and start your summer holiday 2020 in just a few hours!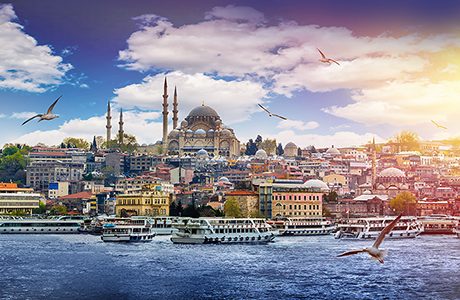 Travel and safety information for entering Turkey
German citizens have been allowed to enter Turkey again since 11.06.2020, but a travel warning still exists. This means that a holiday in Turkey is theoretically possible this year but advised against by the Foreign Office. If you have planned your 2020 holiday in Turkey, you must decide for yourself whether you would like to go or not.
In any case, there are restrictions to everyday life and public space when travelling to Turkey. Depending on the city, you may be required to wear a mask in public places even during your Turkey holiday in 2020. In other regions, face masks are mandatory in supermarkets, on public transport and in marketplaces. A minimum distance of three steps is required between people.
Currently, before you can start your holiday, temperature measurements are taken when you enter Turkey. Anyone with an elevated body temperature or other symptoms of COVID-19 will be subject to additional health checks. In this case, you may only start your Turkey holiday 2020 after a negative test result. Find out about the current regulations before you start your trip.
(As of: 29.07.2020)
Holiday 2020 in Italy
Sightseeing in Rome, romantic gondola rides in Venice or relaxing on the beautiful beaches: Italy is considered a dream destination by many travellers. Holidays in Italy are especially popular in the summer months from May to September. Depending on the region, temperatures sometimes rise to over 40 degrees. Italy is not only a perfect destination for sun-seekers for their holiday in 2020, but also for the skiers who come to the Dolomites during the winter months. Depending on your holiday plans, the recommended travel time varies.
Many visitors to Italy travel by car. In this case, you should be aware that vignettes are required for driving through Austria and that some roads in Italy are also subject to tolls. From northern Germany to the south of Italy, such a trip can easily take up to two days before you can relax and start your Italian holiday.
It's much simpler to enter Italy by plane. Various airports in Italy are served by flights from Germany, including for example Easy Airport Parking Frankfurt-Hahn. Depending on the holiday destination, the flight takes about 1.5 - 3 hours. Meanwhile, you can sit back, relax and look forward to your 2020 holiday. The more convenient alternative to hours of traffic jams!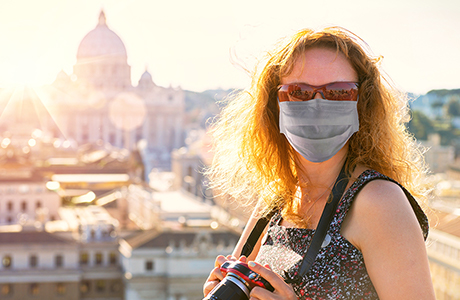 Travel and safety information for entering Italy
It is currently relatively straightforward to enter Italy. Most airports are open again and quarantine after entry into Italy is no longer necessary. Successful entry for your Italy holiday 2020 depends on which countries you visited in the period immediately before the start of your holiday. You should be aware that you could be subject to local-level health checks. The Italian government still reserves the right to issue entry bans. You can find out which countries this applies to on the Foreign Office website.
Die Einreise nach Italien ist derzeit relativ unkompliziert möglich. Die meisten Flughäfen sind wieder geöffnet und auch eine Quarantäne nach der Einreise nach Italien fällt aktuell weg. Für die erfolgreiche Einreise für Ihren Italien-Urlaub 2020 ist zudem entscheidend, welche Länder Sie in der unmittelbaren Zeit vor Reisebeginn besucht haben. Sie müssen vor Ort nämlich mit Gesundheitskontrollen rechnen. Die italienische Regierung behält sich weiterhin vor Einreiseverbote auszusprechen. Für welche Länder dies gilt, können Sie auf der Seite des Auswärtigen Amtes nachlesen.
As in most holiday destinations, you must expect to wear a mask during your holiday in Italy this year. Some shops also demand that disposable gloves be worn. Temperature readings before entering shops and museums will probably also be common during an Italian holiday in 2020. If you want to travel around the country with a rental car or your own car during your Italian holiday in 2020, you should pay attention to the current restrictions for drivers regarding the number of persons in the car and the requirement to wear masks.
(As of: 29.07.2020)